Skip to Content
Learn How to Get Cash Fast at Our Next Event
Since the beginning of our company two decades ago, Complete Cash has always dedicated time to our Georgia communities. Even as our business has expanded from one to 50 locations in all corners of the state, we still appreciate every opportunity we have to give back to the people and neighborhoods that keep us in business and growing year after year.
In order to give back, we love to host, participate, and sponsor local events. Throughout the year and across the state, you can find us in your area by looking for the Complete Cash yellow pop-up tents or matching T-shirts as we volunteer at local fairs, car shows, festivals, charity events, school functions, food drives, and more.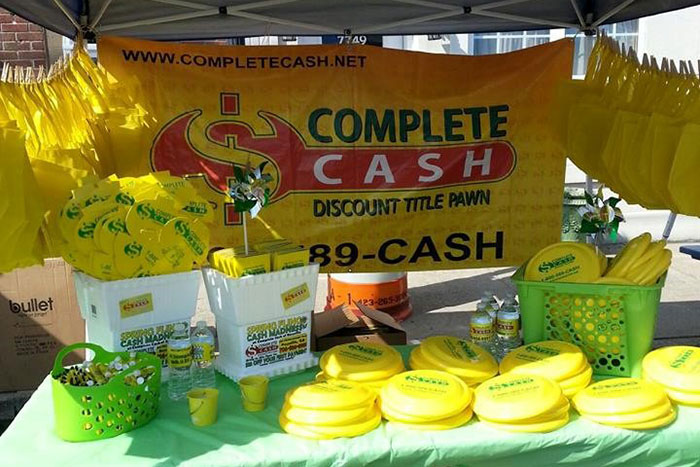 Community Outreach
Complete Cash has hosted softball tournaments, golf tournaments, car shows, concerts, fun family karaoke contests, and even trick-or-treat festivals. The proceeds from events we host are all donated to raise money for local families or children in need. If you have a cause or event in mind that you think would be a good match for our company, contact our team today. We regularly talk to local business owners and nonprofit organizations to find new ideas to help people in need.
When we host or participate in events, we typically set up a Complete Cash tent staffed by our pawn team members. In addition to basic information about our company history and title pawn services, we bring all kinds of fun stuff including yummy snacks, cool games with prizes, lucky draw raffles, hot music, and more.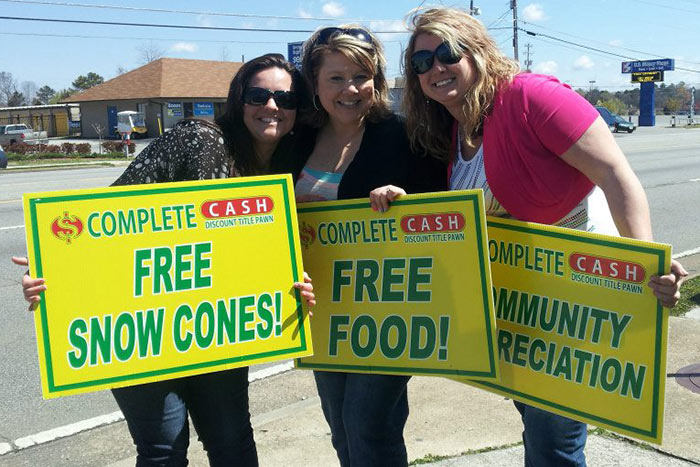 Examples of Past Events
Hot Dog Friday, Chatsworth, GA
Swing for Stella Benefit Softball Tournament, Rockmart, GA
Music in the Square, Lafayette, GA
Feed the Community Day, Eastman, GA
To get a list of upcoming events in your neighborhood, please contact the Complete Cash pawn location nearest you or go to our Facebook page for regular news and updates.
Developing Our Community
Complete Cash takes pride in our leadership development. As part of our community in Georgia, we hope to help develop stronger leaders for the future during their time with us. Over the years, we've fostered a culture of personal growth with our team. We've hosted many leadership workshops and send our teams out to leadership seminars as often as possible. We like to promote our own Complete Cash family members into leadership positions from within our employee network. It's an exciting day when we get to announce a promotion and celebrate a different kind of community event within our own team!
If you'd like to be involved with a local company that cares about the community and the development of our own team members, please check out the career opportunities page to learn more about joining our staff and apply for open positions.
Fast Cash with No Credit Check Required